Last weekend, The Boys (Brian, Dave and I) traveled to Linville NC area for a weekend of hiking. We drove out Friday afternoon and stopped at Peabody's Wine & Beer Merchants in Boon, for a few brews and ale. If your into verities of beers, ales, lagers, porters, stouts and more… this place is for you, We dropped off our gear at the cabin then went for dinner at Los Arcoiris Mexican Restaurant, food was good, service was a struggle.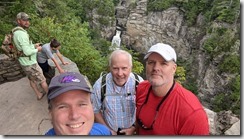 In the morning we stopped at Louise's Rock House (local diner) for breakfast, good food and good service. By 9:30 we were entering the Linville Falls hiking trails. We walked 2 short paths for different views at the water falls. It was a short visit because we wanted to move on to Grandfather Mountain.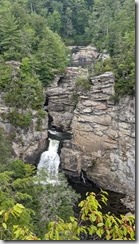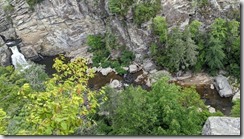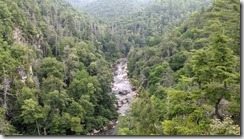 Click on an image to see it larger, then arrow keys to see next/previous image.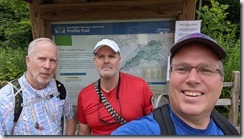 After a short drive, we were at the Profile Trail Entrance for Grandfather Mountain in Linville NC., starting our hike at 11:00 am. According to the entrance map and information the trail is marked as 3.6 miles one direction, but that ended near the top when the trail comes to an intersection at Grandfather Trail, where right will take you 1.9 miles to Swinging Bridge and left will take you 0.4 mile to Calloway Peak. We turned left to the highest point in Grandfather Mountain.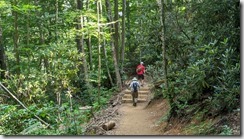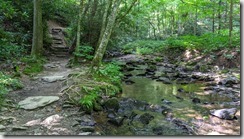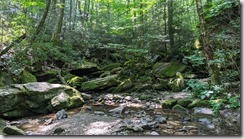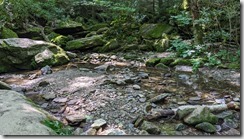 Click on an image to see it larger, then arrow keys to see next/previous image.
The trail started off between relatively easy and moderate. The trail headed down towards a creek that went along side Highway 105 (you can hear the traffic in the distance). As with most trails, its a work in progress constantly keeping fallen trees and bush off the trail and keeping it clear, and there was plenty evidence of this. The creek is quite small, not a lot of water the day we were there, but the width of the cleared stone and creek banks told us there are times in the spring and after storms where there is much more water flowing here.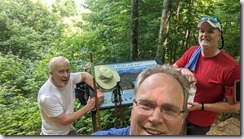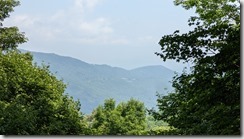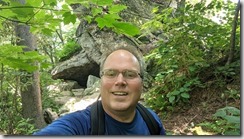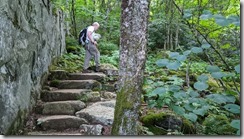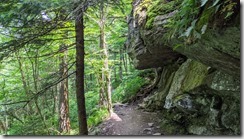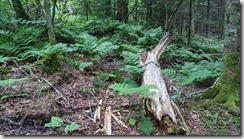 Click on an image to see it larger, then arrow keys to see next/previous image.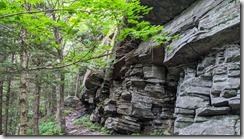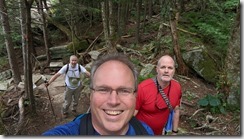 It wasn't long until we left the beauty of the creek, the noise of the nearby highway and the easy and moderate hike, for the rest of the trail which became more moderate. There are a few "look out" points where you can look down into the valley and see the profile of a human head in the side of the mountain, although it wasn't till I was going back down the mountain that I actually noticed the Profile and made the connection to the Profile Trail. About 3/4 the way up to Calloway Peak, is the Shanty Spring where somehow they directed the water from a spring out a plastic pipe, making it easy for you to refill any used water bottles you may have. Good, real cold, refreshing water. Just after the spring, the trail turns strenuous to very strenuous as you feel the impact of climbing up the mountain, the trail becomes more rocks and boulders and far less dirt. It feels like your on a never ending stair climber… we nick-named this the stairway from hell. Somewhere in this strenuous climb the woods transitioned out of hardwoods and into Canadian fir and the air became even cooler. It was around here that Dave decided it was in his best interest to stop, rest and begin a slow decent back down the trail where we would eventually catch up.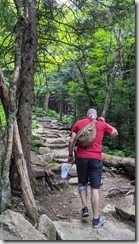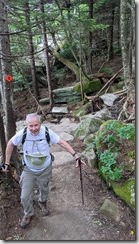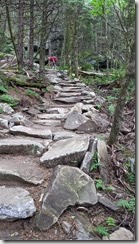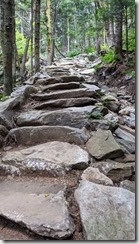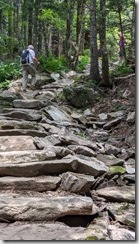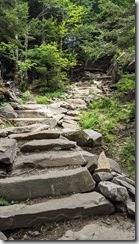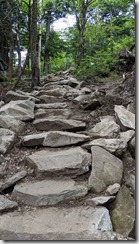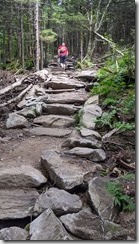 Click on an image to see it larger, then arrow keys to see next/previous image.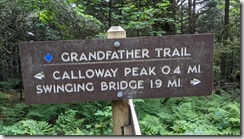 Brian and I continued up the "stairway from hell" till it ended just before the Profile Trail ended at the junction with Grandfather Trail. Here we went left for another 0.4 mile to Calloway Peak, instead of right to Swinging Bridge… another 2 miles. Deep into the pines now, the trail became narrow at times and often looked more like a water run-off erosion path. It soon became apparent that we were literally walking along the ridge of the mountain with steep drop offs one or the other side. There were 3 sturdy wooden ladders we had to climb as we worked our way to the peak. Though the weather was nice with blue skies, there was enough cloud cover to block some of the view from the peak.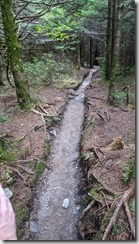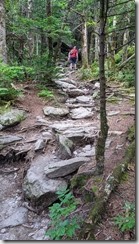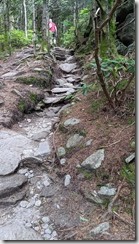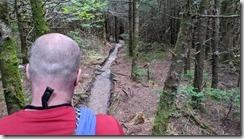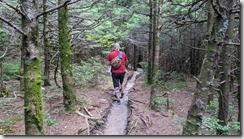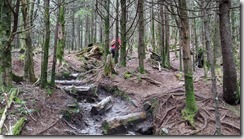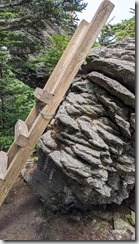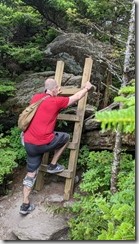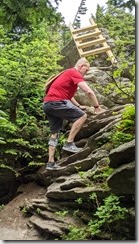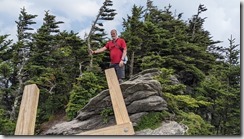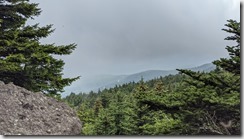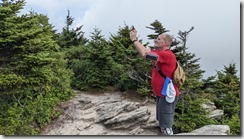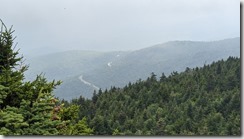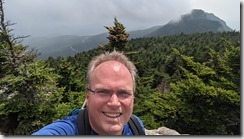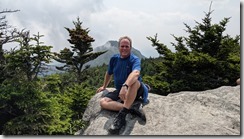 Click on an image to see it larger, then arrow keys to see next/previous image.
I have been in my hiking boots since 8:00 am that morning… and any comfort they provided at 11:00 am when we started this hike had expired… So… now with sore feet, a blistered toe and exhausted legs at 3:20 pm we begin our way back down the mountain. We met up with Dave back at the entrance to the Profile Trail just after 6:00 pm.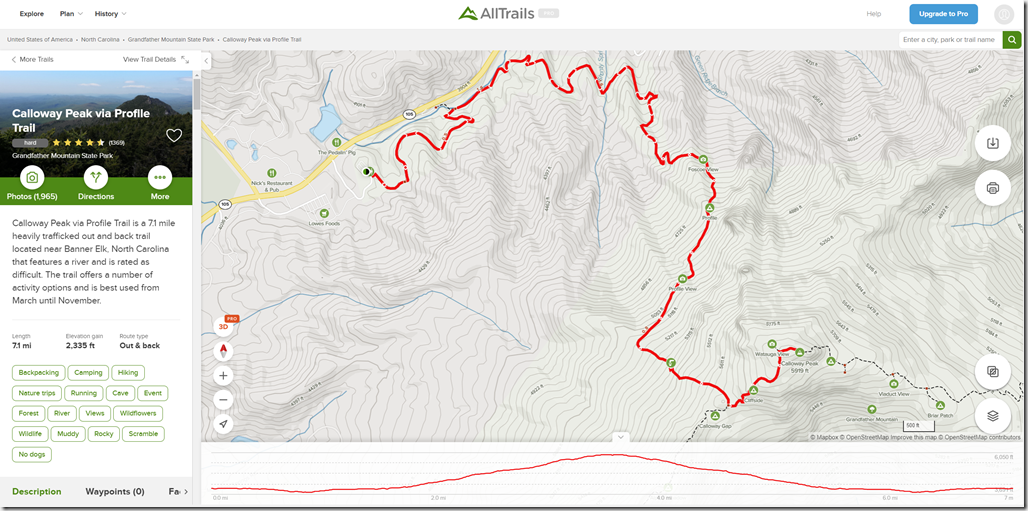 Lessons Learned:
Drink – Drink more water. Even if you have to stop to get it out of a backpack… drink more water. Even if your group hikes ahead, stop and drink more water. You will not enjoy the resulting leg mussel cramps that will attach you in the evening if you don't drink enough.
Rest – Stop and rest… it's ok. Stop, enjoy the surroundings, plants, animals, birds, etc. Take pictures. Stop, rest, enjoy a snack and drink. Don't worry about the time. Soak your feet in the cool stream, it will feel awesome.
Be Prepared – Review the map, don't count on others. Read the warnings. Wear sturdy but comfortable shoes.
Time Needed – When guessing how long it will take to hike a trail… consider distance, elevation changes and trail ranking… not just distance in miles.
Even More Pictures…