So… it finally happened, I was asked to go to the furniture market in Atlanta and the the IT presence and support this market. I haven't traveled for business or flown in a plane since maybe 2004. We have a much smaller showroom in Atlanta and only a handful of the sales staff goes to this market, but management still likes or wants some IT presence there. For this market, there is not an IT staff room, I sat at one of the registration desks at the entrance. I helped scan guest badges and sales staff from time to time. Being at the registration desk, you get to see nearly all the people that come into our showroom or simply walk past… furniture industry guests can be some interesting looking people.
There were very few software glitches and that was a good thing, because there was no time for me to fix them because I was always taking care of other issues at the front desk. Sales staff have become accustom to the "smartness" of the software and use of Bluetooth beacons at the High Point NC market, so it is always an adjustment for them to learn the floor plan here in ATL and orient them selves with the map in the app.
So the Hilton was nice, and thanks to Kevin (our sales man) who stays at many Hiltons, I enjoyed the small breakfast buffet every morning on his free breakfast ticket. The dinners on the other hand… were not that great. The wall where the elevators was interesting… they attached many, many paint can lids, it was an interesting artsy look. One night the sales staff an I went to an expensive place for dinner and I enjoyed some steak and lobster.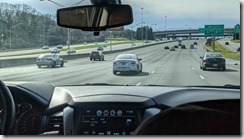 This last picture… if you can read it…
The car has a business website…
POOP911.COM
It is a mobile business that comes to your
to clean up the dog poop.