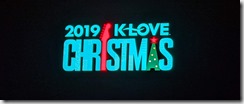 We always try to do something different or special around Christmas Holiday to remind us and our kids that it is Christmas and why we celebrate Christmas. I have heard this event announced for years, but it always seemed to be in a city far away, or a week night, or the cost was prohibitive for my family of 5. This Christmas Holiday it was held in Charlotte, but it was still a week night and the cost was a bit high. As we approached the date of the event, they cut the ticket price in half (if you heard the special code on the radio) … so I checked out the location, it was a church, not some large coliseum, and on the north side of Charlotte. Ordered the tickets and it was done.
So, on the day, we left work early, grabbed subs, chips and drink and headed down to the church. Tickets were general admin, wanted to get a decent seat and not sure of traffic around Charlotte that time of the evening, so we headed out early and ate our subs in the parking lot. The sanctuary for the church was roomy and round. We got decent tickets (did not pay extra for meet and greet with reserved seating) and really enjoyed the show.
Hannah Kerr started. She was quite new at the time, but I now hear her songs on the radio. I Am They were great, I like their stuff. Matt Maher did a bigger set, even sang a song we just rehearsed in Praise Band the other day. Matthew West was the main entertainer, and he did a great job with some of his classics and new stuff and plenty of Christmas songs.
We look forward to hearing about next years K-Love Christmas Tour.