For me, the best recent feature in BlogEngine.NET v1.6 is what they labeled as Comment Moderation.  THIS is a killer feature for even my simple blog that in 2009 only got 1,500+ hits in 2009, but yet still seems to be plagued with comment SPAM.  With this comment moderation, you can moderate all comments, set up rules and filters to block SPAM. 
Here is what the Configuration screen looks like.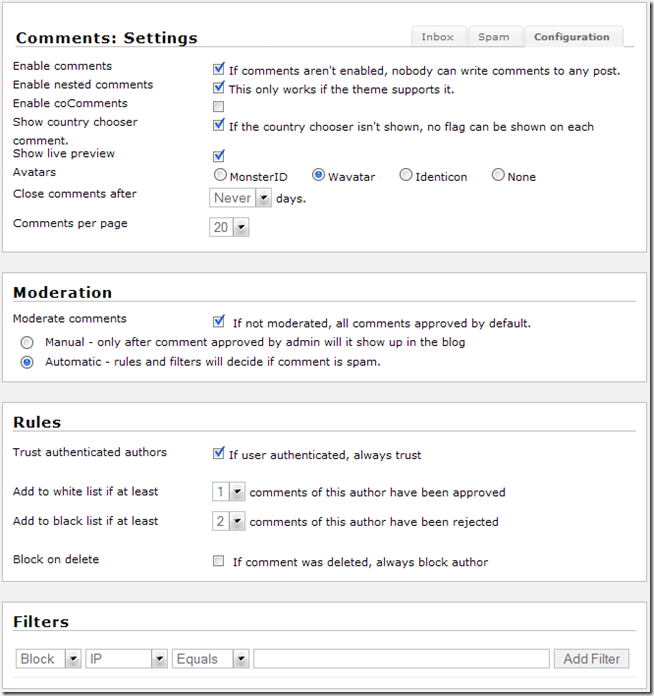 Here is a look at the Spam tab, the Inbox looks similar.
Here you can select multiple Spam comments and delete them, restore them to the Inbox tab or clear them from the list.
No suspected SPAM comment will display in your blog, unless you approve it.  Click on the comment text and you will get this dialog: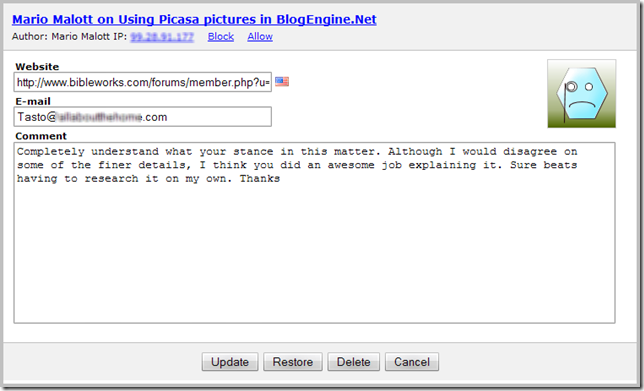 In the dialog above you can choose to block or allow the IP address of the commenter.  If need be, you can edit the actual comment text.  At the bottom of the dialog you can update the comment, restore the comment (undo any changes), Delete the comment and cancel.
Clearly this is a welcomed feature to BlogEngine.NET and provides a lot of power to the blog administrator.