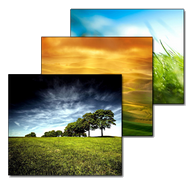 Sometime this year I got an Android Nexus 7. I think it is a great little tablet whether I am connected to a Wifi or not, for access to email, documents (Google Docs), calendar, reading books, playing music or videos, games, and an alarm clock.
As Photographer, I really enjoy beautiful landscape pictures and wanted a way to automatically or randomly change the wallpaper on my Nexus 7. After a bit of searching and trying out a few I found Wallpaper Changer by j4velin. You can choose images or image folders and have it randomly select images at a given interval and change your wallpaper. It is quite nice and keeps your screen looking fresh… assuming of course you don't have your screen filled with Widgets and app icons.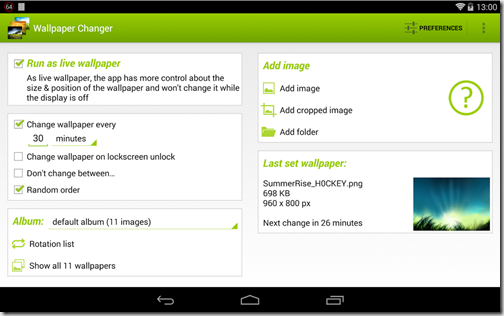 If your looking for a website to get lots of great images for wallpapers, I have recently been using HD WALLPAPER CORNER. They have a great selection and are always adding new ones.