So many accounts with ID's and Passwords, how can you possibly keep it all in your head, and why would you. So you wright it all down in some small secret book you keep in your desk, or carry with you in a briefcase. Maybe you keep them all in a word doc, saved on a thumb drive you carry around with you from home, to the office, where ever… like we need one more thing to carry around. What if you loose that little secret book, or thumb drive? Maybe you could keep it all in a document or file you store on a server somewhere… like eMail, Google Drive, OneDrive, DropBox, EverNote, etc… But what about security of all those accounts and passwords?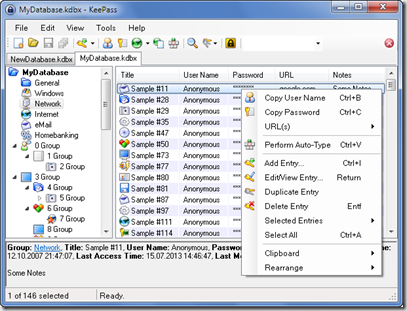 There are other secure password managers, but KeePass and cloud storage provide the solution I like the best. As with most of the solutions I like… its Free. KeePass is a free open source application for Windows, OS X, Linux, iOS, Android and Windows Phone. Passwords in KeePass are stored inside an encrypted database that you control, on your own system. KeePass includes it's own password generator to help you make sure every one of them is unique and strong… if that is your concern. KeePass requires one password to open the database and an optional "key" file that is used to encrypt/decrypt the database.
Now if you combine KeePass and DropBox you can easily manage and access your secure passwords across multiple systems. You would store the password database file in DropBox, and manually copy the "key" file to the other systems, but don't store the "key" file in DropBox. So whether you are at home or the office, you can easily access your private password information. And if you add the KeePass for Android app to this solution, you can easily access your private password information on the go anywhere using your Android device.
In the Android DropBox app, you will need to mark the KeePass database file as "Favorite", so it will always and automatically be synced to your android device. Don't forget to copy your "key" file to your Android device and reference it with the KeePass for Android app.
EDIT: For those of you with iOS devices, here is a link to MiniKeePass — Secure Password Manager.