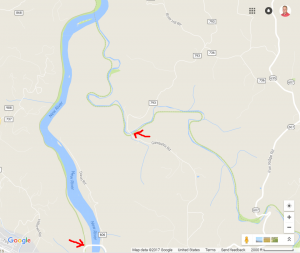 Where we rode the New River Bike Trail.
Over Labor Day weekend we drove up to a friends place, Brian and Terry Timmerman, near Galax VA for a bike ride and dinner. The weather was just great, mostly clear and sunny and high of 75 degrees. We couldn't have asked for a better weather for a bike ride.
We started at the New River Trail Gambetta Access and headed North. We followed the trail for about 2.5 miles, crossed over the New River to the Fries Junction, where we turned left and headed up the New River. We rode on for about 3.5 miles till we reached the New River Outdoor Adventures on Fries Rd. We then turned around and followed the trail back to our starting place, Gambetta Access. We only had one accident (riding with no hands on the handle bars) and there were no bears, deer, raccoons or other exciting wildlife. The kids had fun, it was a great time to be together with friends and enjoy the outdoors.
Of course, no get together is complete with out a meal. We enjoyed hamburgers, hot
dogs, and grilled chicken and topped it all off with some Chocolate Lasagna dessert.
View more pictures and video in this Google Photos Album.