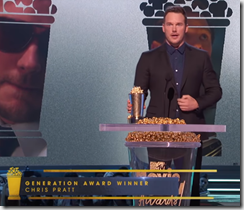 It is a breath of fresh air when a celebrity can do an acceptance speech without being politically correct, speak his mind, and show how down-to-earth and human he is. Chris Pratt recently accepted the 2018 MTV Movie & TV Award Generation Award. After his brief humbleness and thanks, he reviewed his 9 rules from Chris Pratt. He wonderfully mixed serious and funny rules and received much laughter and applause.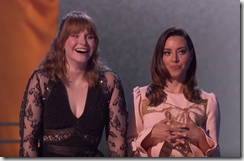 I did not get to see this live or recorded on TV, but found it through YouTube sometime later. If you watch it a few times, the MTV hosts are quite amusing. The blond on the left certainly appears to enjoy her time on stage and Chris's speech. But the brunette on the right, does not want to be there, is uncomfortable, rarely smiles and looks unsatisfied… especially during Chris's talk on poop/flush.
Here are the 9 rules from Chris Pratt:
1 – Breath, if you don't you will suffocate.

2 – You have a soul, be careful with it.

3 – Don't be a turd. If you strong, be a protector and if your smart be a humble influencer. Strength and intelligence can be weapons and do not wield them against the week, that make you a bully. Be bigger than that.

4 – When giving a dog medicine, put the medicine in a little piece of hamburger, they won't even know they are eating medicine.

5 – Doesn't matter what it is, earn it. A good deed, reach out to someone in pain. Be of service, it feels good and it's good for your soul.

6 – God is real. God loves you. God wants the best for you. Believe that, I do.

7 – IF you have to poop at a party, pee first, get all of the pee out first, then poop and quickly flush. This will eliminate all the smell.

8 – Learn to pray. It's easy and its' so good for your soul.

9 – Nobody is perfect. People are going to tell you, you are perfect just the way you are. No You're Not. You are imperfect. You always will be, but… there is a powerful force that designed you that way. And if you are willing to accept that, you'll have grace. And grace is a gift. And like the freedom we enjoy in this country that grace was paid for with somebody else's blood, do not forget it. Don't take it for granted.
I wanted to share this because it gave me new respect for Chris Pratt. It was like a breath of fresh air. Not political, not gun control, not LGBTQ. He didn't boast or brag about himself or recent TV or Movie. It was real good stuff with a little bit of life stuff (comedy) mixed in.