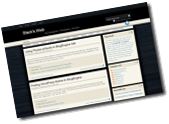 tudio is the theme I stared with for this blog.  I stumbled upon AskTheBoater.com and liked the design so much I decided to see if I could mimic it (with a few minor changes).  I no longer use this theme, but my current theme is also based on the Studio theme.
It is clean and I like the subtle tones.
I haven't added the page yet, but I will make this theme available as a download soon.