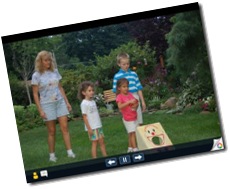 I don't use Picasa or Picasa Web as often as I used to, but I may start using it more often now.  Recently I found an extension for BlogEngine.Net that enables you to retrieve and display a Picasa Album or Picasa SlideShow.  Once configured, all you have to do is add a unique text string (provided by the Picasa extension admin screen) to your blog post or page and the extension does the rest of the work for you.
This Picasa extension (by RTUR.NET) can be found here.  On his posting you will find a some additional information regarding installation, configuration and usage.
Depending on your hosting environment this Picasa extension may not work, it did not work for me from the start (both on my local PC/Laptop on with my hosting provider. I would get the following error on the page where I expected to see pictures from Picasa.
"Object reference not set to an instance of an object. "
After a few comments back and forth with RTUR and some experimentation on my part, I was able to get it working.  For some reason in my environments environment variables were not being set.  So if the extension does not work "out of the box" for you, please review my code changes below to the Picasa.cs code file.  The code changes are highlighted.


Below is a sample album and slide show.
[PicasaAlbum:TerryPoolPicnic]  
[PicasaShow:PATripMomsPlace]
========================================================================
-  February, 26th 2009
I havent tested it yet, but I wonder if the Extension Manager Bug I mentioned in this post had anything to do with the error I was getting, causing me to add extra code to make sure environment variables get set.