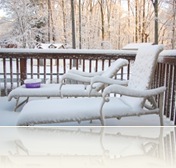 ell it was 5 years over due, but snow finally arrived in NC on March 1st, 2009. And as with any snow prediction, weather a dusting or several inches, the stores were mobbed with paniced shoppers trying to stock up on milk and bread. Depending on where you are in the Triad, you got 2 to 5 inches of the fluffy white stuff known as snow. How beautiful it was to look out the window that morning and see that beautiful blanket of white.
Oh, and as usual in NC, Schools were closed for not one day, but 2 days and on the 3rd, there was a 2 hour delay. As a former Yankee, this is still frustrating and hard to handle.
Below you can view the pictures one by one or watch the slide show.
[PicasaAlbum:200903SnowArrivedInTheTriadNC]
[PicasaShow:200903SnowArrivedInTheTriadNC]