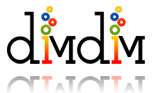 don't mind advertising or promoting a good thing, especially when it is FREE.  So, I say hello to dimdim and good by to GoToMeeting and WebEx.
What is dimdim ?  dimdim is the easiest web conferencing tool I have used and it is FREE.  dimdim lets you deliver synchronized live presentations, whiteboards and web pages while sharing voice and video over the Internet.  And no downloads required for the viewer or the presenter, unless you want to share your desktop with the other viewers in the conference then there is one small plug-in to download and install.
Sharing Documents: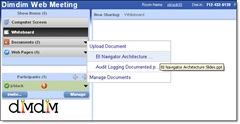 To share or present documents you first have to upload the documents to the dimdim system.  Acceptable documents include PowerPoint (ppt), PDF and PPTX.  After uploading multiple document, you will be able to switch between them.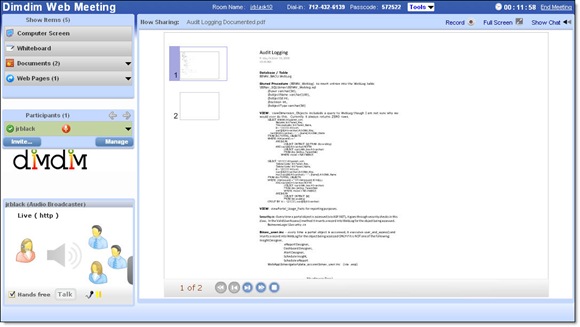 Sharing White Board:
The White Board sharing is quite easy and simple.  Maybe too simple.  There is no UNDO yet, unless you count clearing the white board and starting over.  You can draw free hand, straight lines, boxes, circles, and triangles.  Objects that are added to the drawing can be grabbed and moved around.   There is a stamp-er tool for stamping on different shapes, sizes and color objects.  There is a text box feature also.  You can create multiple pages and even lock out attendees so only the presenter can draw.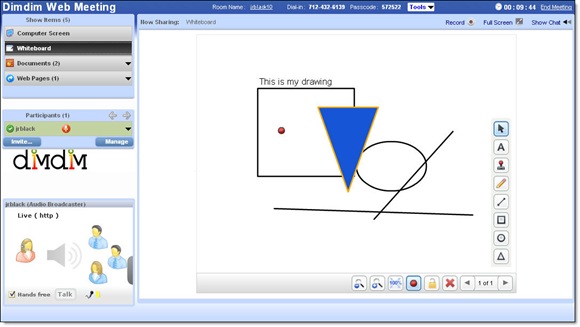 Sharing Web Pages:
Sharing of web pages is quite unique.  You fill in a form that tells the dimdim server what web page you want to start sharing.  Then dimdim shares this with all other attendees.  So when you, the presenter, scrolls down a web page, the attendees web page scrolls down also.  The attendees see what you see, your mouse over text and links and such.  When you scroll the page, their page scrolls.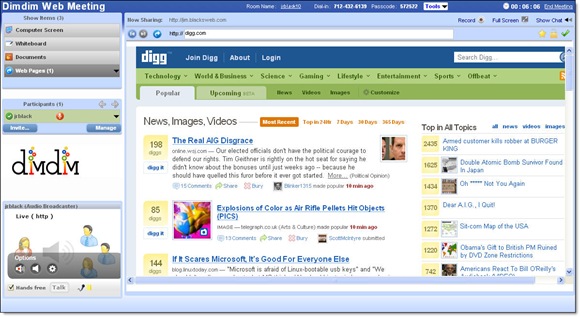 Sharing Computer Screen:
Sharing of web pages and documents is a quite a nice way to share something particular without having to share your entire desktop.  Maybe you need to share some other document, application or you desktop… then you need to share your Computer Screen.  To do this, you will need to download and install a small FLASH plugin.  Sharing of your computer screen is quite fast and it simply works and works well.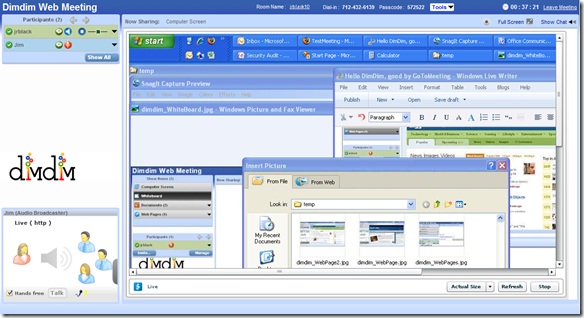 Other Features:

Other features include being able to record your session, attendees can view the presentation full screen (outside the limits of the Dimdim Web Meeting window) and there is a chat window that can be shown or hidden.
Participants can be managed… remove them from the meeting, make them the presenter or chat privately with them.  You can even enable or disable their participation level by turning on or off the ability to Chat or their Audio input.
Try it for free.

Experience the simplicity and power of Dimdim today and see for yourself how now the world can meet freely.
My immediate question to dimdim is…
Why dimdim?