I just have to post my frustration about trying to locate Vista 64bit drivers. I recently purchased a Dell Studio 15 with Vista 64bit. As usual, I was requested by a family member to quickly use Google Maps (my favorite mapping software) to get directions and print them out. Unfortunately, I could not print once I got the directions up…. Arrrrrg.
I tried to install… nope. I tried to search online at HP site, all they said was to use the 970c driver that comes with vista for my 6122 printer. But my printer is on a network and I did not have that option. I searched and searched and finally found my solution [ http://forums.techarena.in/vista-print-fax/917560.htm#post3671909 ]. Here Allan Morris points out the way to install the printer on the network connected to another computer. Below I have it in more detail for those of us that may struggle with his simple directions.
Create a local printer.
On the next dialog, choose Create a new port and from the drop down list choose Local Port. Click Next to continue.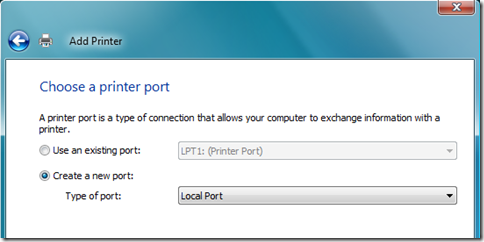 In the next dialog, enter the UNC share path to the printer. \\ComputerName\SharedPrinterName
Click OK to continue.

Next choose the Printer and driver software. For the HP 6122, it is recommended we choose the DeskJet 970c (or as the dialog below shows, the 970Cse). Click Next to continue.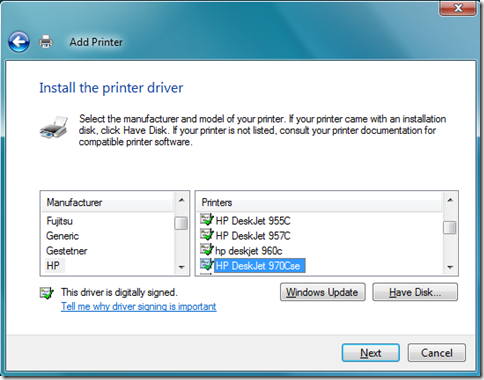 That is about it, I am sure you can handle the rest. I hope this is helpful to someone.