I recently chaperoned a middle school ( 6th grade ) retreat. I volunteered to bring my camera and take pictures of the kids. There were other adults there with pocket cameras and I was glad I brought mien. Later one of the teachers asked about my pictures and about how to get all the pictures together to kids and parents can view the pictures or get prints made. I offered to look into a solution.
I had thought about PicasaWeb or Flickr, but I wasn't sure how parents would easily get prints made. And once you are at PicasaWeb or Flickr, it is easy and tempting to start browsing other pictures people took. I utilize several different photo sites from time to time for prints and such which include SnapFish, ShutterFly and WinkFlash. SnapFish didn't have anything I could get excited over to share pictures. then I got to ShutterFly.
ShuttefFly has a good thing going.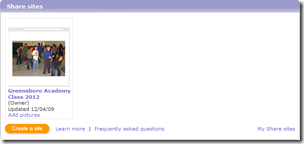 Not only can you share prints on their site and/or via email. But they offer Share Sites. You can build a site, choose what albums you want to share in your site or choose what pictures from which albums you wish to share. And you can maintain this site, adding more pictures and albums as time goes on. You can add discussion forums, Calendars, Slide shows, Photo books, and much more.
You have several themes to choose from to build you site and you can always change when interests or topics change. You can add additional pages, rearrange pictures and content. You can even have the site password protected. There is no limit to storage space or length of use. So, for the next 3 years, 6th, 7th and 8th grade, we can collect and save pictures here. And at the end of this time have one place to go to see the class pictures as they have changed over the years.