The Southwest dance team recently enjoyed the opportunity to cheer or dance (not sure which) on the field at half time during the Duke vs Baylor football game over the weekend. I may have been a long day for such a short performance, but it was a great experience… visiting the campus, enjoying the game and watch Caitlin and the girls take the field at half time.
The game was fun. There was a good crowd there and it was quite warm for a mid September afternoon, they had tables around the stadium handing out free paper drink cups with ice water. Luckily we were seated with the sun to our backs. There were several dance/cheer teams that took the field, it was a busy time. Of course being from Eastern PA, football is often more about the band, then the game, and Kim enjoyed watching the band perform.
Walking around campus was sorta OK, but I heard they have an old time cathedral that is just fantastic. To visit the cathedral, it is open for self guided tours, but if you luck out and there is a custodian there by the name of Oscar, be sure to stop and ask him a few questions about the cathedral. Before you know it, he will have shared with you all kinds of interesting facts about the school, the cathedral and him self. What a wonderful gentlemen and a good time and visit we had.
The cathedral at Duke University
Click an image and view them full screen.
Have I mentioned I love my G6 Phone Camera…
Caitlin and SW Dance Team on the field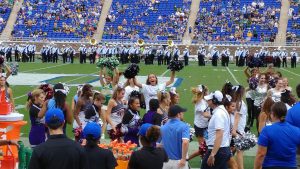 Caitlin hamming it up…