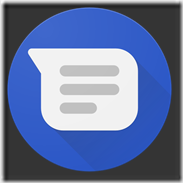 Though I recently started using MightyText and posted about it recently, the FREE version limits you to 150 messages… Well, when you have 3 kids, work, sports, dance, and busy family, 150 messages a month is not enough. The good news… Google recently released Android Messages for web. This new Messages Web App allows you to read and respond to TXT messages on your phone via your PC without having to pick up or touch your phone. (there is NO limit on text messages per month) The user interface is very similar to what you see and experience on your mobile phone, with a list of conversations on the left the active text conversation on the right. Depending on your browser and extensions, you can enjoy spell check in your text messages.
To get started, go to your phone and launch Google Messages. Tap on the menu icon (three dots) and choose Messages for Web. Next on your pc/laptop, go to https://messages.android.com/. There should be a QR code on this page. Back on your mobile phone, tap the button SCAN QR CODE and use your phone to scan the QR code on your pc screen. IF this is your personal computer or laptop, you may want to check or turn on the "Remember this computer" on the web page first.
In few seconds Android Messages will sync with your PC and show your recent conversations on the left. After that it pretty much works like it does on your phone, except you have a larger screen and a full size key board. This is quite handy while at work or school or in class. This web version also includes notifications (no sound) so you are visually alerted when new messages arrive. When starting a new conversation, it connects to your contacts to make it easy.
There is a dark theme available if you like that. For those concerned with data usage, you can be alerted to when your phone is using mobile data. Emoji's, stickers and picture attachments are all supported.
If you need help, a full walkthrough guide is available here.