AdBlock… what ever happened to that Extension? It just stopped working, Chrome kept reporting it was disabled, but after clicking the Enable this Extension link, it still would not enable. I complained to a co-worker and he said, "AdBlock is no longer the goto extension for blocking adds in Chrome browser… but uBlock Origin is the new best tool".
So, aft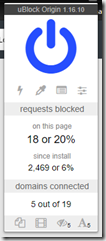 er uninstalling AdBlock and installing uBlock Origin ads on web pages are now gone. Now I did not do any custom configurations, there are plenty but I don't care to deal with them. The default settings work just fine for me at the moment. Now I know and understand that many sites need to have advertising to help support their business, but some sites have a LOT of ads (images, banners, media), some from 20 to 35% of the media on the page is advertisement. That is a lot of internet web requests, data usage, etc… and time to load the page.
As with most Chrome extensions, there is an icon at the top of the browser that you can click on to get details on how much is being blocked, to turn blocking on or off, to choose even more items to block, etc.