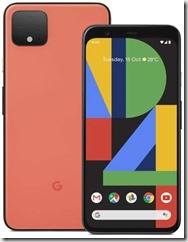 So, for the past 2 years my phone has been the LG G6, and it was a good phone. Loved it, it was snappy, took great photos and video, water resistant, all that good stuff. All 5 members of my family had one. 2 years before that it was the LG G4 that suffered the boot-loop issue and we switched from Sprint to Verizon. 2 years before that it was the LG Volte (on a pre-paid plan, but still liked that little phone), and some other phone 2 years before that. I had planned to keep the family on these G6's after they were paid off and save up some money, but after 6 – 8 years of the family using smart phones, it finally happened. One phone the charging port got corroded by sweat tea in the charging port, one phone the camera glass broke and damaged the lens, and towards the end of our 2 years the glass on my phone got shattered (impact was the only place not covered by glass screen protector).
The Pixel 4 had just been released… and Verizon was offing a sweet trade-in deal to get the phones at 50% off. Pixels have been known to have great cameras, quick updates on software and OS upgrades and the Pixel 4 included face unlock. So much for waiting and saving…. this was the time to upgrade to a Pixel 4. Many reviews were concerned with the size of the battery and battery life, so we went with the XL, besides the non-xl would be smaller then the LG G6 we were used to. We got our new Pixel 4 XL's mid November.
We love it. Love the camera and photos and Night mode can be amazing. Stereo speaker sound is great. It is snappy and fast. Motion Sense and Face unlock is great and fast. Without tapping the screen or power button… you pick up the phone, the screen lights up and is unlocked quickly.
UPDATE:
Been 6 months now and still loving the phone, battery performance, camera, everything. Here are a few updated photos:
The image on the right, looks like a daylight photo, with shadows, but look closer
you can see stars in the sky. This photo was taken 11:32 pm, back yard with no
outdoor or indoor lights on and no flash. Google Pixel 4 XL – ƒ/1.73 12s 4.38mm ISO157
Check out the photo of the moon on the right. This was taken May 9th, 6:08 am
Google Pixel 4 XL – ƒ/2.4 1/406 5.84mm ISO40
Impressive. Sun was illumining the sky, but adjusting lighting and contrast in
the camera and BANG!
And… Portrait mode is great also.