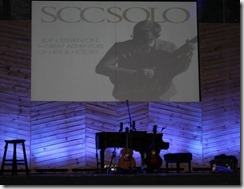 The other weekend I took the family to see Steven Curtis Chapman in a solo concert at Triad Baptist Church. This was a small venue to see SCC and unique because it was a solo concert… just him, no band… just him with a guitar (or keyboard) and a mike. The concert was nearly 3 hours with a break somewhere in the middle.
Steven recently published a book about his life, childhood, career and more, not only did he advertise this book, but he blended it into his concert… sorta walking us thru his life with his songs. It was quite enjoyable, but for my kids (who didn't have the 20 to 30 years exposure to his music) there was a bit too much talking and not enough performing. For Kim and I it was great, we know most of his songs including love longs. It was fun to hear stories of his childhood, meeting Mary Beth (now his wife of many years), adopting children and helping other families adopt.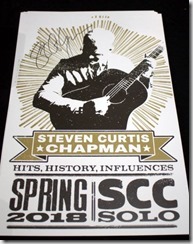 Somewhere in the 2nd half of the concert, Steven asked the audience to make requests for songs and he would sing them or parts of them. This was a blast. Collin, my oldest son (sophomore in college) leans over to me and says… "wow, this guy has guts… 30 years of music… call out a song, I'll pull it out of memory, play it on guitar and sing the lyrics…" Steven was able to perform every request except one.
One song, a new one he performed for us, has stuck in my mind. Remember to Remember (YouTube link). It's a song about remembering where you've been, the great mountain tops and those low valleys, but to also remember the promises of God and how he will work all things for his glory.
A local Christian radio station WBFJ was there for the concert and took some great pictures of Steven at the concert. I grabbed a few from their Facebook post share them below.